Hi,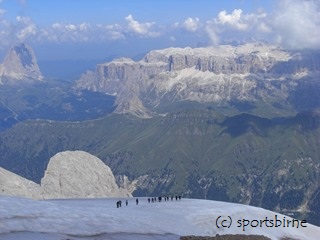 my name is Astrid, I am a passionate alpine Mountain Biker, Tennis Player and Mountaineer.
This is where I could prove my Sportsbirne:
Trekking in Rumania - Trekking in the Carpathians (16 days with large backpack)
Trekking in Tanzania - Ascent of Mt. Meru + Mt. Kilimanjaro (Camping & Trekking)
MTB in Morocco - Sand in the gears: From Marrakesch above Atlas mountain chain into the Sahara (MTB under excotic conditions)
MTB in Mongolia - Biking between yaks, goats & Co. (Camping)
MTB in New Zealand - 5 weeks, 2 wheels and a big smile (freedom camping & cycling down-under)
Alpine Alp Crossing - Biken to a glacier, continue on crampons, ice axe and on rope
and many more tours
several MTB competitions with at least 70km and >2200Hm
During my education as mental trainer I learnt and applied mental training techniques that allowed me to grow beyond my common boundaries. Enriched by learnings from mindfulness and stress management I freed myself from nervouseness prior to competitions. I could also suppress stress factors at work and am ever since more relaxed and focussed.
I am excited of what mental training can do. I have created this blog to forward my motivation and my know-how to those who would also like to grow their potentials.
Are you planning an expedition? A climb? An ascent? Or any other adventure?
A competition? A test? A speech? A concert? A change in your life? A challenge?
Train your brain. And then train your body.